Nirakia's Corner
Jun 03
RED -
Orange Is The New Black Season 2 - "I Want to be Fierce" Trailer
Fierce! *Hiss*

Oh, I love this character! 
May 31
[video]
May 29
(Source: carlithiel)
Black & White to color
(via thejanewaydirective)
May 25
Jeri on J/7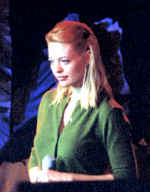 I think it's fine.  I have a lot of homosexual friends.   It's not an issue that bothers me or whatever.  I'm not homosexual but I have no problem with people who are.  There were a few scenes in Voyager where everybody thought: "Oh look!  Seven and the Captain!  They're gonna get together!"  And I got to be honest, there are a few scenes that make you go: "Oww, come on…"
There is one episode where Seven has her first date.  And there is a scene with the Captain where this romance idea comes up.  I think it gets to be a joke after a while. It's not anything the writers ever intended to do with the characters.  Really.  And there was a faked press-release on the Internet.   That the producers had released this especially to introduce the first gay character on Star Trek.  It's all a big myth.  It's not true.  However,   it would not surprise me if this subject was not going to be touched on by this character (Seven).  For an episode.  It's not going to be an ongoing theme for Star Trek to come out and be gay.  But Seven is the logical character for that to come up.  Because she has no pre-conceived sexuality.  And she is exploring every aspect of humanity.  So, it wouldn't surprise me if we had an episode or two.   But not with Captain Janeway.  No!  It's not going to be Seven and the Captain.
May 20
Helen Magnus + Décolletage
May 19
https://www.fanfiction.net/s/10361293/1/The-Light

Sequel to "Same Love." A year after Seven and Admiral Janeway reunite, a mysterious threat attempts to dismantle the life they've created.

My love for these characters was so reignited as I wrote my last story, I had to give them a sequel. I…
WOOT!!
May 16
New J/7 Uberfic

"The Heathen and the Abbess" by me

A Viking warrior is nursed back to healthy by a nun on a remote island. But the clan chief has plans for the woman warrior. Can the abbess thwart him? Oneshot. Adult Only. 8K words.

Hope you enjoy it.
WOOOOOOOT!
May 09
[video]
May 08
[video]